Aric Chamberlain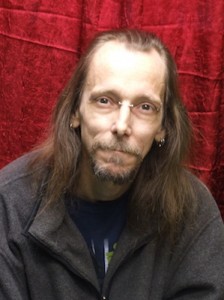 1967-2011
News on Aric's Passing
I am known in this life by my given name: Aric Chamberlain. I was born and raised in New Jersey and left there when my wings were fully grown. I started life with Catholicism and left it at the age of 9 by my choice, due to the fact that answers were not always given, and a lot of times my questions were frowned upon by members of the clergy while attending Catholic school. I was given the opportunity to undergo an apprenticeship with a Cherokee medicine priest at around this time and studied religion, beliefs, ritual, and ceremony for 10 years. Through these teachings, I was instructed to use what I learned and adapt it to what would make me feel complete and provide the most for the world around me. I searched through several beliefs and religions of the world, with little luck of finding anything that truly expressed my thoughts and beliefs, only to find what I was looking for in my current vocation.
I have lived in various places: Delaware, West Virginia, Ohio, North Carolina, Arkansas, and Maine. Due to my years in the military, I developed a wanderlust, which I can say now is about out of my system, after moving back to West Virginia for the third time.
Through the course of life, I've done various things as jobs, some of which include: ride operator for a major amusement park, baker, bakery/deli manager, EMT on the road and in a maximum security prison, Medical Service Specialist (Air Force), Licensed Practical Nurse, bookstore owner, bar owner, and construction worker.
I'm married to a wonderful woman and my life companion for over 17 years. We have 5 children between us, 4 girls and a boy. Our oldest is our son (22), who is on his own, working his way through life. Our oldest daughter (19) is in her first year of college. The others follow in age of 12, 11, and 8. Our goals in life are to eventually own our own piece of property; build our own earthen home; and become as self-sufficient as we can, making our own electricity and heat, as well as growing our own food, which looks like a distinct possibility in the coming years.
I own and operate a tattoo and piercing studio in Ripley, West Virginia, and I have been tattooing and piercing for more than 13 years now. I find working with people and creating their ideas on flesh as a ritual and ceremonial practice. A person who sits down in the chair for their modification is not the same person who step out of the shop, for the ritual has changed them and changed me…for a moment in time, a feeling, a thought, an inspiration, etc. is captured in the flesh and we both participated and experienced in its creation. I have met countless people in this career and have developed lifelong friendships through the end of my needles. I feel that I have brought happiness, cleansing, success, and countless other human emotions and feelings out for people who might feel isolated in the world and given people back their humanity. To me, my vocation and profession are fulfillment made reality. I am a shaman of steel and ink, providing my talents as a service to the people who seek it. I was once told a medicine man holds no honor other than being a servant to the people, and, in turn, I feel that this has always been my calling.
As a minister, I look forward to helping people with any questions or decisions that they may have about the world of body modification. I am a good listener and give sound advise to those who want it, both in my private and professional life. I tend to be easy going and take everyone on equal standing. I welcome any questions or comments you have and look forward to many years of service with CoBM.
Aric's Minister Application