Specific materials/colors for a specific purpose. | Ritual | Forum
A
A
A


Topic RSS

Related Topics

Specific materials/colors for a specific purpose.

January 18, 2011
1:29 pm

Chris Carter
Pennsylvania
Forum Posts: 195
Member Since:
February 3, 2008

Offline
The other day, Tiffany posted a link to the metaphysical properties of stone. While the idea isn't new to me, I haven't spent much time learning about different types of stone and how they may differ. For that matter, I haven't though much about material in general, or even color. Quality is important, internally threaded jewelry is a must, but beyond that I'm not particular to any specific material or color. Granted, this is mostly because I only sport a septum piercing and wear a retainer 99% of the time. Be that as it may, it has me thinking what jewelry material/color I would want for specific piercings, or even for specific purposes.
Is there anyone who plans their jewelry selection so carefully? Other than the more simplistic/superficial reasons, do you only wear certain types of jewelry, or certain colors of jewelry, in specific piercings? Or for specific occasions? On the flip side, are there any materials or colors you do not wear because they don't feel right in some way?
Church of Body Modification, President
January 18, 2011
2:43 pm
Tiffany Hahn
San Diego, CA
Forum Posts: 40
Member Since:
January 8, 2011

Offline
I only wear high-polish (silver) Titanium in my piercings, but allow for sterling silver in other jewelry like bracelets and toe rings. I went through a phase about 4 years in length where I would only wear 18K gold. The gold just didn't feel right, and the piercings I had done with them wouldn't heal. So I switched to steel. Steel didn't feel right either, and I had to retire my bridge piercing because it just looked horrible (peeling, red). Someone suggested I try titanium. The first thing I tried was rainbow titanium, but my skin reacted in a similar way. Then I tried high-polish titanium. No problems. I was stoked because I thought I was going to have to give up piercings alltogether. I had custom-made pieces from Anatometal made for my three lobe holes (custom wear length, diameter, etc). I now wear nothing but Anatometal high polish Titanium.
And then enters the issues of stone, silicone, and glass. I can wear all three, but they don't "feel" right for long-term use. I'll wear it in the short term (like my Kaos hider plugs), but the Titanium still feels better to me spiritually. Some stones (like Onyx) are too grounding for me, while others (like quartz) are too…powerful?…for me to handle.
My "modern primitive" spirituality dictates that I must wear Titanium as often as possible, with glass and silicone retainers as a short-term solution. I also do not wear stones in any of my jewelry. The Titanium jewelry serves as protective amulets to the various openings in my body – ears, mouth, eyes, nipples, navel, etc. Interestingly, most piercings seem to be near or around these orifices.
January 19, 2011
5:23 am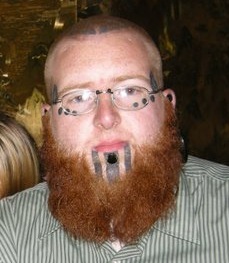 Richard Ivey
Raleigh, NC
Forum Posts: 6
Member Since:
January 13, 2011

Offline
I wear a variety of materials…
But, without a doubt, Tiger's Eye is my favorite stone.  Here's what http://www.peacefulmind.com has to say about the stone: "Tiger's Eye works on our mental plane by amplifying thinking and
manifesting what you think about. Helps separate thoughts from feelings,
more centered, less emotional. Tiger's Eye allows us to recognize both
our talents and our faults. It can reveal your true needs without our
self-serving or rigid mental attitudes getting in the way."
Anyone who knows me personally knows that I'm more or less a pretty straight shooter and that while being a very sensitive person, I keep things rather sensible.  It's purely coincidental (or is it?) that the stone I love most based solely on appearance also fits my personality perfectly.
When it comes to my piercings, I usually wear steel.  I have tried other materials including organic and silicone.  However, my body doesn't like those materials.  The two studs in my nostril are sterling silver, and I haven't had any reaction to it.
I usually don't wear any other jewelry with the exception of my wedding ring which is platinum.  If I am going to weary any stones besides the ones in my wedding ring, it's usually garnets – because they are my birthstone, they have different properties as listed below. When it comes down to the color of any metals, I like "silver' looking jewelery as opposed to yellow gold – like the stainless steel and platinum.
Garnet Gemstone Meanings – Emotional, Spiritual, etc.
Garnet helps with self-esteem.
Garnet symbolises faith, courage, fire, honesty, fidelity,
grace and compassion.
Garnet can make you more popular.
Garnet protects travellers.
Garnet brings constancy to friendships.
Garnet helps combat depression and laziness.
Garnet is thought to attract love and soul mates.
Garnet is said to enhance creativity.
Garnet is associated with the 1st chakra – root chakra.
Garnet Gemstone Meanings – Healing, Medical, Physical,
etc.
Garnet is believed to be the 'gemstone of health' – balancing
energy and providing protection and a calming stable vitality.
It is believed if you put Garnet under your pillow it can
cure depression.
Garnet helps increase sex drive.
Garnet stimulates bloodstream.
Garnet is associated with the thyroid – enhances the body
in assimilation of iodine.
Garnet is associated with the spleen.
Garnet helps cleanse and purify the thyroid and spleen.
Garnet repairs damage to DNA.
Garnet enhances the body in assimilation of iodine, calcium,
magnesium and vitamin A and E.
Forum Timezone:
America/New_York
Most Users Ever Online: 116
Currently Online:
20 Guest(s)
Currently Browsing this Page:
1 Guest(s)
Top Posters:
gbalychik: 8195
vampyremage: 462
Sommersett: 296
SasQuatch9585: 271
Jamesryan: 227
Member Stats:
Guest Posters: 60
Members: 2539
Moderators: 2
Admins: 1
Forum Stats:
Groups: 2
Forums: 6
Topics: 8772
Posts: 12853
Newest Members: justbetter, SanartU, HanukG, JESSE, 1heyman, Michaeldeme
Moderators: Oakbear (886), Richard Ivey (6)
Administrators: Chris Carter (195)