The Body Modification Community | General Discussion | Forum
A
A
A


Topic RSS

The Body Modification Community

Do you consider yourself to be a part of it?  Why or why not?
Personally, despite my absolute love of body modification and the work that I continue to get more of, I can't really consider myself as a part of the community.  I adore my artist and I get along well with other body modifiers when I happen to be around them, but I'm not really close with any of them. 
The comunity I am most immersed in is the roleplaying community and while there are a few in that community with tattoos and piercings (at least in my city) I don't believe there are any of them who consider themselves a part of the body modification community. 
There does, however, appear to be a community around.  I've never had a great desire to be a part of it; I simply do what I do with little thought about what my chosen circle really thinks about it.  I expect respect, of course, but beyond that I don't feel the need to surround myself with others who similarly choose to modify their bodies.
Also, this is my 100th post

December 3, 2011
9:52 pm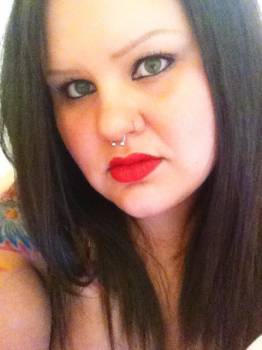 DutchessOfNill
Wenatchee, WA
Forum Posts: 85
Member Since:
August 10, 2011

Offline
I don't consider myself to be a part of the community, but I don't really feel like that matters to me.  I am, however, a part of an amazing suspension group and they are my family.  And now that I'm thinking of it, I don't really think I am a part of any particular community or sub-group.  I have a very diverse group of friends that I would never trade for the world and of those friends that are not in my suspension family, I am the only one who is heavily modified (or even moderately modified, for that matter).  That being said, it's not as if I wouldn't welcome friendship from other people that are 'in', I'm just not going to attempt to seek out or go out of my way to hunt those particular people down.  If it happens naturally, then so be it.  If not, then I will just love them in spirit. 

Congrats on your 100th post!  I've enjoyed reading what you've contributed in the forum during the short amount of time that I've been a member. 

December 4, 2011
12:05 am
Joe
Kannapolis, NC
Forum Posts: 11
Member Since:
November 11, 2011

Offline

I'm not really sure what the body mod community is myself.
I think there are recognisable people and cliques, but not that i know personally or i'm part of myself.
I think there is a kinship i feel with those who modify in a meaningful way, such as COBM members, but in reality (apart from here) i have little interaction in the real world with many of these folks. My piercer is one, and now i'm part of a suspension group there's a couple more, but aside from that my friends and associates aren't really into body mods.
Whether the kinship is mutual i don't know, but i think often it is. An understanding shall we say.
This has also made me think whether i'm part of a community in an online sense? I'd like to think here i am. I feel the same kinship with people here. People know me in a manner, and i take part in discussion as part of a group. I do feel part of something here, albeit small in regard to active members.
I've also noticed that when i have posted in suspension and mod groups on facebook i have maybe caught people's radar, and some folks have added me as friends. In a sense i suppose that makes me part of a community too.
"The individual has always had to struggle to keep from being overwhelmed by the tribe. If you try it, you will be lonely often, and sometimes frightened. But no price is too high to pay for the privilege of owning yourself." - Nietzsche
December 5, 2011
1:06 am

strommer
Portland,OR
Forum Posts: 212
Member Since:
October 3, 2011

Offline

i wouldnt consider myself a part of any comunitys but do have alot of freinds with mods but at the same time im freinds with alot of people that dont have mods. i think me and my freinds with mods knda get into competition with eachother to try and one up the others witch is kinda fun. but ive never considered myself in a comunity especialy since i do alot of my own mods alot of the "in crowd" looks down on me for that but at the same time alot of people give me mad respect for it. i definitly find it easyer relating to people with mods though.
December 6, 2011
5:09 pm

madeofpaper
Forum Posts: 11
Member Since:
July 7, 2011

Offline
i would consider myself a part of the body modification community, meaning that i am a part of the subculture of human beings that finds body modification extremely beautiful, rewarding and spiritual. basically anyone that has an appreciation for the art i would consider to be "in the community" and i would consider myself to be connected with them, even if i have not met them.
seeing these posts, though, makes me realize that some people who maybe i would consider to be in the community, don't actually see themselves as a part of it? which creates a whole new perspective on the matter. i'd like to think that we are all connected in some way…
as for the "community" itself, i don't think it's something formal that has been established. i see it as more of an idea or a feeling than an actually structured entity. when i say that i am part of the body modification community, i am saying that i am a part of something beautiful, something i am proud to be a part of. i am saying that i belong.
December 6, 2011
7:11 pm

strommer
Portland,OR
Forum Posts: 212
Member Since:
October 3, 2011

Offline

i do feel a conection to all people with mods especialy the people that have alot even if i dont no them we still exchange nods when walking down the street or riding the bus i dont think ive ever realy thought about it the way madeofpaper described it but im definitly gonna look at it a little diferent now
December 8, 2011
10:12 pm

astral_phoenix
Bel Air, Maryland
Forum Posts: 63
Member Since:
October 3, 2011

Offline

I have thought about this and it is still on the fence. I do in a way, and I don't in a way feel a part of the body modification community. I find in this world like in many other things there are cliques. Do I feel part of the clique? No.
Now I do feel a somewhat close relationship to those who do my modifications, because they are entering a part of me that I don't oftent let people enter. They are almost like my therapist. So I feel apart of the community in that respect.
Doest this make sense?
"People living deeply have no fear of death." – Anais Nin
December 9, 2011
2:38 am

strommer
Portland,OR
Forum Posts: 212
Member Since:
October 3, 2011

Offline

Forum Timezone:
America/New_York
Most Users Ever Online: 116
Currently Online:
35 Guest(s)
Currently Browsing this Page:
1 Guest(s)
Top Posters:
gbalychik: 8195
vampyremage: 462
Sommersett: 296
SasQuatch9585: 271
Jamesryan: 227
Member Stats:
Guest Posters: 60
Members: 2539
Moderators: 2
Admins: 1
Forum Stats:
Groups: 2
Forums: 6
Topics: 8772
Posts: 12853
Newest Members: justbetter, SanartU, HanukG, JESSE, 1heyman, Michaeldeme
Moderators: Oakbear (886), Richard Ivey (6)
Administrators: Chris Carter (195)