knowing in childhood | General Discussion | Forum
A
A
A


Topic RSS

knowing in childhood

June 29, 2012
2:16 pm

Sommersett
Forum Posts: 296
Member Since:
May 24, 2012

Offline
As I read comments, I notice many people mention knowing a special something about themselves at a very young age.  I want to share about childhood rituals and circumstances before you had all your beautiful mods. 
I remember pulling my teeth.  Even the very first one was so interesting and exciting to me.  The other kids thought it hurt and were pretty scared, but not me.  I sat with my little feet in the sink in the bathroom so I could get my face super close to the mirror… all contorted with bloody little bits of toilet paper scattered around me doing my best to pull it out.  I know it DID hurt because if I went to sleep without pulling it out it would get tight again.  It must have been really intense because I remember my eyes would hurt from looking at it up close for so long. I must have been ages 5-10.
I remember playing with sewing needles.  I'd sneak into the sewing box and hide between my bed and the wall and run the needle through a very thin piece of skin on my arm.  I'd try to see how long I could keep the needle under my skin without the skin breaking.  I think I could get about half the needle covered.  I would do it so shallow I would not bleed.  I think I was around the age of 7 or 8.
Everyone has something to say about the Mona Lisa until you're standing in front of it speechless.
June 29, 2012
2:32 pm

strommer
Portland,OR
Forum Posts: 212
Member Since:
October 3, 2011

Offline

i used to take my model train and plug in the track lick 2 of my fingers and touch the track giving myself electro shock i was about 6-10 years old still to this day theres a special place in my heart for electro play

i also used to take a stapler and sit in class and staple my ears from top to bottom then take em out and start over (i really wanted my ears pierced but my mom said no) i think i was in the 3rd grade
and i love this topic cant wait to read more posts
I also used to play with sewing needles and pins.  Another thing I did was scratch my skin very hard so that little red lines appeared.  Occasionally I even scratched hard enough to draw blood upon myself.  The lines never lasted for very long, but it was something I remember doing as young as 7 or 8.
July 3, 2012
4:25 pm
Tiffany Hahn
San Diego, CA
Forum Posts: 40
Member Since:
January 8, 2011

Offline
Starting when I was about 7-8, I started embroidering patterns into my skin with a sewing needle and normal thread. It would stay there about 3-5 days before it started deteriorating and the thread would break through the skin. I even did this on the bottoms of my feet. Strangely enough, a loose pattern even felt like it protected my feet from the cement. In retrospect, I had shallow but open wounds on the bottoms of my feet and I'm surprised none of it got infected. But I have very fond memories of my early skin embroidering. 
July 6, 2012
10:04 pm

Amy_S
Forum Posts: 11
Member Since:
July 6, 2012

Offline
I used to barely puncture the skin with sewing needles and safety pins and just let it hang there. I'd have a lot of fun with a callous on the heel of my palm, because I could go so deep without drawing blood. I can't remember how far back this goes. I would sometimes jab myself with things and it felt good to me, as well. These days, I feel that piercings empower me mind and soul, but this was the earliest skin decoration I did.
July 8, 2012
4:11 pm
elphy713
jackson
Forum Posts: 1
Member Since:
July 8, 2012

Offline

when i was little i would always play with sewing needles and alteration pins (ya know the ones with the really big bright colored heads). i remeber always sitting in my little beanie babie wonderland (the walk in closet my mom let me take over) it was kind of a rough time in my childhood and there was just somthing about the way the needles entering my skin calmed me down and took away the stress. i would always see how many i could embed in my feet and hands. i loved the way the needles changed colors the further they went into my skin and the way the diffrent colored heads looked as they formed an outline of my hands and feet. i would do this for hours and i would never come out of my little closet. there was just somthing about that little world i created in my closet. i would always imagine my hundred and some odd beanie babies were cheering me on as i shoved hundreds of pins into my skin.
even though all of my beanie babies are packed away i still imagine them cheering me on when ever im walking on pins and needles.
July 8, 2012
7:38 pm

ColaChampagne
Forum Posts: 40
Member Since:
July 7, 2012

Offline
Oh god where do I start. I think like almost everyone here, as a child, I was highly fascinated by the fact that I could stick a pin through my skin and not feel any pain( but only on my palms), and I would have needles just dangling from my hands, it was really fun. I also got introduced to burning myself by rubbing the point of a pen really fast on a piece of paper, and then immediately applying it to your skin. That was also fun. I also basically introduced myself to scarification before I even realized scarification was a legit practice of body modification. I hated the constant emotional pain I felt throughout my daily life in my house and I soon realized that physical pain made it better for me. I loved the physical pain, and something about watching the little blood bead around the cut made me feel so much better, even though actually drawing blood was very rare for me because I was a complete ball sack(see what I did there?) about cutting and didn't really want to die. But I soon  stopped because…hmmm well I guess I got tired of it, I don;t really know why I stopped it was so long ago. It's funny because I still have the scars I can still see them from so many years ago…faint thin brown lines going horizontal up my arms. I recently got back into it though  a couple days ago. It was either that or bash my head against something, and I have done that enough times. I still have the same feeling of release and calm. It was quite an enjoyable experience for me, despite the circumstances in which I did it, Nothing could bother me after that.
long story short I'm a masochist. HI NICE TO MEET YA!

We are all born a blank canvas, physically and mentally, It is up to us to decorate our mind and body.
July 8, 2012
8:53 pm

Amy_S
Forum Posts: 11
Member Since:
July 6, 2012

Offline
July 10, 2012
5:25 pm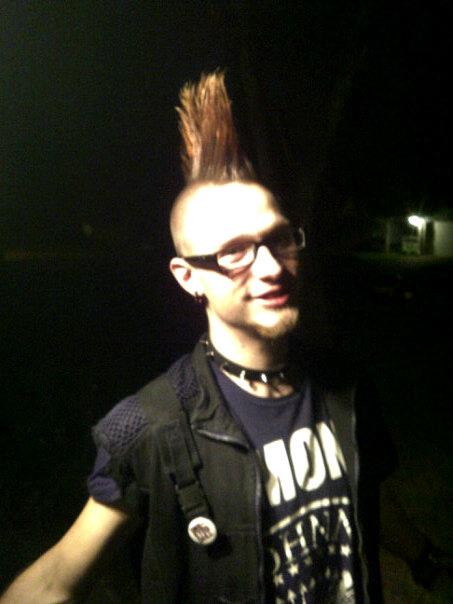 PaulDoll
Forum Posts: 16
Member Since:
May 29, 2012

Offline
the first time i knew i wanted mods was when i was 8 and my sister came home wit an Egyptian back piece of a scarab beetle with wings holding a sun. i wanted one just like it at the time. i dont want that anymore. shes designing a piece from scratch now. i was an other one of those kids that had an obsession of the temporary tattoos one can get for 50 cents at a machine. in high shcool i used ball point pens to give myself sleeves in class whenever i was bored, which was almost all the time. not exactly the best idea, seeing as i could have been poisoned.still fun none the less.
July 22, 2012
1:30 am

thishme
Clarksville, Tn
Forum Posts: 14
Member Since:
June 17, 2011

Offline
I thought I was the only one who stuck sewing needles through thin parts of my skin! I also loved to pour wax on my arm and peel it off, or burn myself. I picked at my skin just to watch myself bleed like scabs or whatever. And whenever I saw someone with a tattoo or piercing I was very fascinated and always wanted to look like that. I liked finding ways to adapt to different things, and viewing everything at every angle. I later moved on to different rituals as I grew older, and found I wasn't alone! Ha, I used to think something was wrong with me, when I was little. 
Forum Timezone:
America/New_York
Most Users Ever Online: 116
Currently Online:
25 Guest(s)
Currently Browsing this Page:
1 Guest(s)
Top Posters:
gbalychik: 8195
vampyremage: 462
Sommersett: 296
SasQuatch9585: 271
Jamesryan: 227
Member Stats:
Guest Posters: 60
Members: 2538
Moderators: 2
Admins: 1
Forum Stats:
Groups: 2
Forums: 6
Topics: 8772
Posts: 12853
Newest Members: SanartU, HanukG, JESSE, 1heyman, Michaeldeme, REUNatasha
Moderators: Oakbear (886), Richard Ivey (6)
Administrators: Chris Carter (195)