Help, my jewelry is stuck! | General Discussion | Forum
A
A
A


Topic RSS

Help, my jewelry is stuck!

June 8, 2012
4:32 pm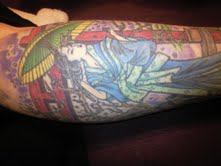 Amber Betts
Murphysboro, Illinois
Forum Posts: 17
Member Since:
May 6, 2012

Offline

June 8, 2012
9:41 pm

Sommersett
Forum Posts: 296
Member Since:
May 24, 2012

Offline
Put a little rubbing alcohol on a tissue and gently rub it on the beads to remove any oils.  Then, hold on to the beads using a fresh tissue between your fingers and the metal so you can get a better grip.  Otherwise, have a professional remove it and sterilize the new one before insertion.  Good luck!  Are you moving up a gauge?  I have stretched mine to 00 and have considered bifurcation, but have since taken it back down in size.  Titanium is always the best way to go in any genital piercing.
Everyone has something to say about the Mona Lisa until you're standing in front of it speechless.
June 8, 2012
10:11 pm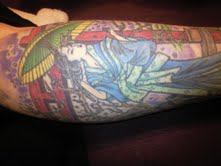 Amber Betts
Murphysboro, Illinois
Forum Posts: 17
Member Since:
May 6, 2012

Offline

June 9, 2012
8:53 pm

strommer
Portland,OR
Forum Posts: 212
Member Since:
October 3, 2011

Offline

when i have an issue with stuck beads i try using multiple clamps to wrench it of but if for some reason it wont you can always cut the jewelry of with a pair of wire cutters i would definitly only do this as a last result though cause cutting the jewelry is gonna leave it not as smooth and could scrape against tissue when you remove it i no i have had issues like this with curved bars before alot of the time the bead doesnt go on straight and theyll get stuck good luck
If the tissue doesn't work, latex gloves can help get grip.
Also, if you can get haemostatic clamps, put a bit of tissue under it so it doesn't mark the jewelry, and it should help hold the bar steady.
"The individual has always had to struggle to keep from being overwhelmed by the tribe. If you try it, you will be lonely often, and sometimes frightened. But no price is too high to pay for the privilege of owning yourself." - Nietzsche
June 12, 2012
3:50 pm
jimmyenglish
Minnesota, u.s.a.
Forum Posts: 48
Member Since:
April 3, 2012

Offline

try a warm saline soak prior to trying to remove it, the heat could cause the jewelry to expand, as well as break up any sebum or other bodily fluids which are probably sticking to it acting like glue. i agree with the other suggestions as well, but the alcohol. that''s a sensative area you don't want to use that there, not to mention it can dry up the skin and irratate the cells and tissue.
Jimmy "English" Lesniewski
Forum Timezone:
America/New_York
Most Users Ever Online: 116
Currently Online:
29 Guest(s)
Currently Browsing this Page:
1 Guest(s)
Top Posters:
gbalychik: 8195
vampyremage: 462
Sommersett: 296
SasQuatch9585: 271
Jamesryan: 227
Member Stats:
Guest Posters: 60
Members: 2539
Moderators: 2
Admins: 1
Forum Stats:
Groups: 2
Forums: 6
Topics: 8772
Posts: 12853
Newest Members: justbetter, SanartU, HanukG, JESSE, 1heyman, Michaeldeme
Moderators: Oakbear (886), Richard Ivey (6)
Administrators: Chris Carter (195)