Forum use - how do you do it?! | General Discussion | Forum
A
A
A


Topic RSS

Forum use - how do you do it?!

Hi everyone,
This forum seems pretty quite compared to Tribe if i'm honest. I think it could still be a great resource to link up together and spread the word about the church so likeminded individuals can get involved.
I wonder how others view the forum, and what might tempt you to use it more? (And what puts you off posting now?).
How else could we get more people on board?
"The individual has always had to struggle to keep from being overwhelmed by the tribe. If you try it, you will be lonely often, and sometimes frightened. But no price is too high to pay for the privilege of owning yourself." - Nietzsche
It might seem a little cyclicle, but I think the more active members the forum has, the easier it'll be to gain more active members.  If there are only a few new posts over the course of a week, its hard to keep up the motivation to continually check the forums here and add posts to discussions. 
I think even getting a core handful of individuals who actively post would be enough to attract other individuals to be more active on the site.  5 or 10 people consistently being on the forums and responding to threads would, I think, be sufficient to begin attracting greater numbers of people and once there is a solid core group of posters, I think that the whole forum will run much smoother.
July 27, 2011
2:12 pm

Chris Carter
Pennsylvania
Forum Posts: 195
Member Since:
February 3, 2008

Offline
Personally, I prefer chatting real-time and can often be found in the CoBM chatroom. Also, the monthly online classes are always something I look forward to.
Speaking of resources, we're thinking of possible ways to make the website as a whole a better resource of information. The forum is okay but something more organized and polished would be better. Not a wiki of information, but something in that general direction.
Church of Body Modification, President
July 27, 2011
2:27 pm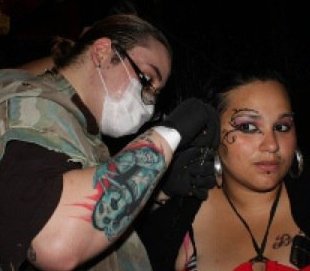 Vamp
nyc
Forum Posts: 17
Member Since:
January 7, 2011

Offline
I joined the forum around the time the tribe was being shut down.Wasnt as active back then because I was always busy with work or had no access to a computer.
But now im just going through all the past posts and seeing how I can add my input into the subject.And I am looking forward to the next class as well.
"the mind is a place of its own and in itself can make a heaven of hell and so forth…"
Forum Timezone:
America/New_York
Most Users Ever Online: 116
Currently Online:
22 Guest(s)
Currently Browsing this Page:
1 Guest(s)
Top Posters:
gbalychik: 8195
vampyremage: 462
Sommersett: 296
SasQuatch9585: 271
Jamesryan: 227
Member Stats:
Guest Posters: 60
Members: 2538
Moderators: 2
Admins: 1
Forum Stats:
Groups: 2
Forums: 6
Topics: 8772
Posts: 12853
Newest Members: SanartU, HanukG, JESSE, 1heyman, Michaeldeme, REUNatasha
Moderators: Oakbear (886), Richard Ivey (6)
Administrators: Chris Carter (195)