Artist Loyalty | General Discussion | Forum
A
A
A


Topic RSS

Artist Loyalty

April 3, 2011
9:51 pm
Tiffany Hahn
San Diego, CA
Forum Posts: 40
Member Since:
January 8, 2011

Offline
I always go back to the same piercer, that is, if I'm not doing the piercing myself.
I really like the guy who did my last tattoo. If I were to get another tattoo, I think I would go back to him. I've moved around some, and this has contributed to my changing tattoo artists.
I also really like the guy who did my cutting. If I were to have another cutting done, I think I would wait until he was back in town (he doesn't live where I do). That is, of course, if myself or my husband didn't do it ourselves.
If you have found and artists that you "click" with and they can make your vision a reality, why not go back? Recommend them to your friends, too! We need to keep good artists in business!
Great question, by the way! I'm looking forward to seeing other responses.
April 3, 2011
7:23 pm

JMcCauley
Vassar, Michigan
Forum Posts: 48
Member Since:
February 8, 2011

Offline
Do you only have one or two artists work on you? Do you prefer to have many different artists and different styles of work? Is your piercer always the same?
Me, none of my tattoos have been done by the same artist. I like the styles of the work to be different. I also like the thought of collecting art from different people. I could tell you who did what piece at what shop in what city and when. Not to say that I wouldn't have an artist work on me again. With my piercings, I regularly donate skin to apprenticed piercers but I usually don't plan on keeping them. If I do plan on keeping a piercing and I'm not doing it myself, I will only go to one other person. 
April 3, 2011
11:16 pm

JMcCauley
Vassar, Michigan
Forum Posts: 48
Member Since:
February 8, 2011

Offline
  I agree that supporting artists is important and your referrals and endorsements is what can really make or break an artist in your area. I've been lucky enough to have a good many friends that tattoo in different areas and the network of people they work with expose me to an incredible amount of options, styles, and artistic abilities. I do try to keep a few cards from any artist that has worked on hand to give out to others that my like the work they have done on me.  
   One thing I wanted to ask and forgot was how do people feel about having a different artist finish an existing piece.
  That is something I try to avoid. I don't really feel comfortable having someone finish another's art piece. If the artist were to jump ship and leave the state, the thought of a road trip to get a piece finished would be more rewarding that having someone, that doesn't have the same heart involved in the piece, finish the piece. If their was no hope of reuniting with the original artist, I would not choose to have a half finished tattoo either.
April 4, 2011
3:07 pm

Jamesryan
Utica, USA
Forum Posts: 227
Member Since:
March 2, 2011

Offline
I feel that there is a great level of trust between a body modification artist and a client and therefor, if you find someone you really click with, then you should certainly return! I only don't have a dedicated artist at the moment right now because mine retired and I'm my own piercer.
James R. Somers ModernPrimitivism.com
April 8, 2011
12:32 pm
bettyrage
Forum Posts: 21
Member Since:
January 10, 2011

Offline
I've been going to the same artist to complete my sleeves for years now. I once went to a different artist to get some completely separate work done and I almost felt like I was cheating. I just have such a bond with my artist that I can't stand going to anyone else. His wife will be finishing some work for me soon. I just really connect with them and can't imagine me going anywhere else. I also send a lot of people their way. I want nothing but the best for them.
I used to have the same piercer do everything but he no longer pierces. I found a new guy, and he's done a really great job, but the connection just isn't there. He's a sit down-tell me what you want-here ya go-now get out kinda guy. It's a very "wham, bam, thank you maam" kinda feeling. Needless to say, I'm looking for someone new to go to for piercing.
July 24, 2011
8:39 am
jwestpsk
Arkansas
Forum Posts: 22
Member Since:
July 11, 2011

Offline

I think artist loyalty is really important!  Now I have to say there are a certian few people that if I were to have the opportunity to get tattooed by I would!
I have only been tattooed by two people.  There is a tattoo shop 15 minutes from my house but I gladly drive an hour and a half to get tattooed by Kendal Harkey at Golden Lotus.  I've known him for the past 16 years, he's an amazing artist and while he is more expensive and farther away I'll never have anyone else tattoo me again!
I'm kind of in the middle ground as far as artist loyalty goes.  If I can, I do like to go to the same artist, especially when it comes to non-tattoo work.  I have been going primarily to the same body modification artist for a few years now and the one time in the last few years I went to a different artist, he was still in the same shop and it was mainly because my usual artist was touring across Canada. 
However, if an artist other than my usual artist does something my usual artist isn't able to do, I have no qualms about going to a different artist.  I think this is even more relevant when it comes to tattooing because there are so many different tattoo styles out there.  Some of my pieces I want to look radically different than others and the best option, in that case, is to go to a different artist.  I want the best artist for the job, whether or not that is my usual artist.
July 27, 2011
8:53 pm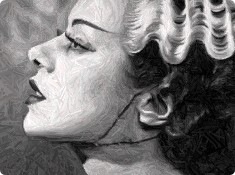 gaugingbeauty
somewhere in middle america
Forum Posts: 29
Member Since:
May 30, 2011

Offline

I love my piercer; she's talented n mildly insane, but she doesn't make pretensious snobbery out of it. The place where I had started gauging always made me feel like a newbie, and anything I didn't know about gauging was given the most offhanded eye roll…she was REALLY good at that eyeroll.
So I switched. It's no different than your best hair stylist, because there is an intimacy and loyalty there that develops. I think if I went somewhere else n she had seen me with a new piercing, I'd feel as if I'd cheated on her.
However, on the other hand, when it comes to ink, I have several artists in mind for different pieces. I would like to remain loyal to one, but with such great skill out there, I'm torn.
October 3, 2011
8:07 pm
Ryalt
Massachusetts
Forum Posts: 3
Member Since:
October 3, 2011

Offline
I've been going to the same tattoo artist for the past 8 years, ever since I got my first tattoo. And the piercer is the same way, same guy since my first.
I'm a big proponent of loyalty when it comes to this. I really trust my piercing guy (whom is the shop owner and has also won awards for piercing/scarification). And the tattoo artist and I click really well, and I think, at least for me, it's important to have consistancy in the work I have done.
October 4, 2011
4:24 am

astral_phoenix
Bel Air, Maryland
Forum Posts: 63
Member Since:
October 3, 2011

Offline

This question is in the air with me because I have met amazing artist, but quite frankly their personalities outside of their work area made me sick. As of right now I have one Artist and if I didn't go to him id go to his wife. I have yet to find someone who understands why a tattoo is spiritual to me and this is a problem. But until then I will always go where I am going because he never let's me down.
"People living deeply have no fear of death." – Anais Nin
Forum Timezone:
America/New_York
Most Users Ever Online: 116
Currently Online:
28 Guest(s)
Currently Browsing this Page:
1 Guest(s)
Top Posters:
gbalychik: 8195
vampyremage: 462
Sommersett: 296
SasQuatch9585: 271
Jamesryan: 227
Member Stats:
Guest Posters: 60
Members: 2536
Moderators: 2
Admins: 1
Forum Stats:
Groups: 2
Forums: 6
Topics: 8772
Posts: 12853
Newest Members: JESSE, 1heyman, Michaeldeme, REUNatasha, o_dogg, Dr.Squid
Moderators: Oakbear (886), Richard Ivey (6)
Administrators: Chris Carter (195)