What about you? | General Discussion | Forum
A
A
A


Topic RSS

What about you?

September 25, 2012
3:30 pm

Roeroe92
Oregon
Forum Posts: 24
Member Since:
September 16, 2012

Offline
So in my class yesterday we did an exercise where we had to describe ourselves, how we feel about ourselves, how we think others see/think about us, and if we would change anything. 
I thought it might be a good exercise for us all to think about. You don't have to answer here but it's at least something to think about and reflect on. I'm going to post my answers only because it's helpful for me to repeat the exercise and see if anything changes. 
I would describe myself as a loving, nurturing, free spirited woman. I feel good about who I am and how i'm growing. I think others see me as a quiet girl who doesn't like drama but is willing to help anyone who needs it. Right now I wish I could be more motivated to change the things I do not like about myself, such as my weight. 
September 25, 2012
4:35 pm
KristenAtkinson0
South Korea
Forum Posts: 225
Member Since:
February 27, 2012

Offline

I think most people would like to change their weight, myself included.
This does seem like a good exercise. So, here's mine:
I would describe myself as an eccentric, artsy, passionate woman.  I'm quiet and reflective most of the time.  My friends would probably describe me as fun-loving, a little crazy, stubborn, and fiercely loyal.  I feel mostly good about myself.  There's not a whole lot I would change, as everything that I do/have done has shaped me into this person.  I'd change my weight, and probably a few vices. 
September 25, 2012
6:30 pm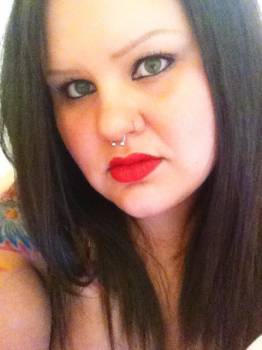 DutchessOfNill
Wenatchee, WA
Forum Posts: 85
Member Since:
August 10, 2011

Offline
I, on the other hand, wouldn't change my weight.  Oddly however, I'm usually the 'chubby' girl in the group.  But I sort of like chubby

I would describe myself foremost as a mommy, hence I mother people and things.  I am kind, grateful, compassionate, and sometimes rebellious (although I'm sure I'm too old for it

). I am open to life and what it has for me to discover and learn.  I am severely flawed in a multitude of ways that will not even begin to list.
I feel confident in who I am and the person I am becoming.
I think I would change my obnoxious need to 'mother' everyone and everything.  I'll leave all of my other flaws.  They give me character

On another note, this post has entirely too many smiley faces for someone who is nearly 30 years old. Ha!
September 25, 2012
11:17 pm

KendrahLi
Los Angeles, CA -818
Forum Posts: 86
Member Since:
September 9, 2012

Offline
How would I describe myself?
I normally answer such questions to the tune of "To sum me up in one sentence: I'm a street racing, sadistic raving, draconian occulist who honours my kin through the Arts." But I suspect we're looking for something deeper lol.
I'm deeply spiritual in my own processes to the point everything I do is fueled by it. I am highly creative, artistic, and driven. I am a teacher to those who need, esp in the realm of spiritual teaching. I have a bit of a dominance streak that leads me very easily take charge of situations, but I'm not a willing leader. I like to sit in the shadows and manipulate situations into who I want them.
From a previous essay about myself, "When looking within I first notice my ability to leave a trail of chaos and destruction in my wake. I'm a challenge to anyone around me. I seem to create obstacles for those who know me, eventually becoming one myself. " … "I am a misanthrope of a disagreeable nature who delights in causing strife with others. I take amusement in causing dissension in the families of those who cross me. I am insidious enough to to find the action that will cause the most damage when provoked. I would have no greater pleasure than watching the bloodshed of one who hurt me and having them know it was me who pulled the strings. "
What would I change?
Yes I would change my weight! But that will come with fixing the underlying health problem. I would change my failing health! Lol
The big thing I would change about myself is my inability to finish projects. I start these gorgeous pieces but end up not finishing them for one reason or another. It's one thing if I'm doing that because I get too sick to, but sometimes it's just a random losing interest. Along that lines I also have this issue of getting disinterest in something if I /have to/ do it. No matter how much I love art and am driven to be a gallery artist, when I get a deadline (like when I'm doing a piece for a film) I just don't want to do it no matter how great the piece looks. Like currently I'm doing a series I've been sitting on for awhile. I'm doing them in secret so the director doesn't know what they are, I have complete freedom to do my own style/content…. But I find myself willingly not working on them because I have a deadline.
-= www.khaotyk-artwerx.com =- Ex Ignorantia Ad Sapientiam; E Luce Ad Tenebras
September 26, 2012
2:18 pm

Sommersett
Forum Posts: 296
Member Since:
May 24, 2012

Offline
I'll play along.
I would describe myself as beautiful, creative, open minded, brave and a warrior. 
I think others see me as a strong, energetic, vixen, snob who is not as funny as she thinks she is.  (for example, that just made me giggle) 
If I could change myself in ANY way…. I would become a bad ass vigilante with ninja skills and a tenacious lust for environmental protection seriously ready to fuck up some major offenders.
Also, I would relax more.

Everyone has something to say about the Mona Lisa until you're standing in front of it speechless.
September 26, 2012
3:13 pm
KristenAtkinson0
South Korea
Forum Posts: 225
Member Since:
February 27, 2012

Offline

My labels include asexual, agendered, panromantic, polyamorous and teatotal.  There was a time when I rebelled against labels, but now days I'm quite fond of of them.  Labels have their role and while they shouldn't be taken as any sort of detailed description, they do provide a solid foundation of understanding in very few words.  Somehow, I have managed to collect up quite a few of them.
Beyond my labels, I am an individual who is spiritually defined by the concept of balance.  Balance has been one of the major themes in my life since before I really understood anything about such things.  I strive to balance nearly everything in my personal makeup but, more than an active striving, there are things within me that simply naturally exist in balance.  When one of my internal balances is off I can feel it and it effects every aspect of my life, usually quite negatively.
Self-betterment is also a strong theme in my life.  To push one's personal boundaries gently but consistently is something I value highly.  There are many personal faults of mine that I have worked on improving in such a fashion and many more I hope to one day be able to improve.  Such is a long and difficult proces but so incredibly rewarding when one sees those successes. 
I consider myself to be an extreme individualist and a hedonist and these two things often, but not always, go hand in hand.  Everyone should have the absolute right to do with their own bodies and own lives what they wish, so long asthere is no significant direct harm done to others in the process.  I live my life by the pleasure principal, to enjoy as much as I can without harming others.  My hedonism, however, doesn't take the traditional angles.  I am asexual and thus sex holds little interest to me.  I am teatotal and was completely straight edge for most of my life; something that only changed in the last couple of years as an important part of my personal development.  Thus, drugs and alcohol don't factor into my hedonism either.
I'll write one more thing and then close it off, as this is getting rather long and I tend to ramble.  On the subject of being teatotal and previously straight edge, that largely stems from a long standing fear of not being in complete control of self. Like balance, this is something that has been ever present and permeates everything I do.  Unlike balance, this is something that has sometimes caused me to miss out on experiences and is built on an unsound foundation of fear and phobia.  This is the thing that, presently, I am setting my sights on working on, to try and let go of a little bit of my long prized control.  I consider this to be my greatest challenge in personal development to date but also among my most important.
November 28, 2012
8:00 pm
London Hernandez
Forum Posts: 19
Member Since:
January 7, 2011

Offline
I would describe myself as upfront, asshole at times, caring way to much (depends), helpful, lazy, selfish (at time), over thinker, and polite.
If I had to change some thing I would try and be a loving person and not so hateful (that means every one)other than that I try to get along with every one but some it doesn't happen.
December 3, 2012
5:54 pm

rich
Forum Posts: 5
Member Since:
August 1, 2012

Offline
Ever since I joined COBM, I understand my rituals more. My mother passed away not long ago. My ritual I performed was getting MOM tatooed on my fingers. I also will be getting a tribute tatoo on my head to symbolize her life. The tattoo on my fingers repressents her love for my sister and myself.

December 20, 2012
2:36 am

link9454
Colorado
Forum Posts: 38
Member Since:
December 20, 2012

Offline
I am a thinker, a listener, a debater, and bit of a know-it-all. I am empathetic, accepting, but quick to judge.
I am androgynous, quiet, shy, and a bit annoying as well as annoyed.
I am relaxing to others, helpful, and stoic. I try to foster communication, I am logical, I am a bit skeptical. I like to fight for the sake of others who cannot fight, I am an intellectual, I am a reader, a writer, and a lover.
Forward though the dark uncertain, Or back though the thorns with your bare flesh, It is your choice how to live, between the truth and the lie.
January 6, 2013
7:38 pm

rich
Forum Posts: 5
Member Since:
August 1, 2012

Offline
my name is rich. i have been fighting my weight for a long time. i do not feel good about my weight. my new years resolution is to eat better exercise daily. i turn to piercings and tatoos to make myself feel good about myself. its amazing how steel jewlery on my face makes me feel better about myself. thanks to the chuch of body modification

Forum Timezone:
America/New_York
Most Users Ever Online: 116
Currently Online:
27 Guest(s)
Currently Browsing this Page:
1 Guest(s)
Top Posters:
gbalychik: 8195
vampyremage: 462
Sommersett: 296
SasQuatch9585: 271
Jamesryan: 227
Member Stats:
Guest Posters: 60
Members: 2537
Moderators: 2
Admins: 1
Forum Stats:
Groups: 2
Forums: 6
Topics: 8772
Posts: 12853
Newest Members: HanukG, JESSE, 1heyman, Michaeldeme, REUNatasha, o_dogg
Moderators: Oakbear (886), Richard Ivey (6)
Administrators: Chris Carter (195)