Pain | General Discussion | Forum
A
A
A

Topic RSS

Pain

I think I've got a strange relationship with pain.  Its not that I like pain, not really.  Certainly I don't like as much pain as many modifications tend to produce.  And yet, I find it strangely comforting to come home with a new and healing mod and feel the ache and the pain that comes with it.
I haven't quite pinpointed exactly what it is about feeling the pain of a new modification.  Maybe its something that makes me feel just a litte bit more alive or maybe its that viseral reminder of what I've just done to my body, how I've taken control of my own physical form.
Does anyone have any thoughts to share regarding the sensation of pain?
In the past i would never have categorised as someone who sought pain, and if my piercings were pain free that would have been fine by me. Pain was simply something to overcome rather than experience.
Over time that has changed somewhat i think, and pain and physical trial, rather than just psychological, for me is a part of that ritual. It brings my body and mind closer together and gives me a deeper understanding of myself.
There is a physical reinforcement of the act, a visceral reminder of the intent, something overcome, something earned. Endorphins and aderanaline probably aid this process, and i confess at times to have having a very pleasant 'buzz' sensation (which never happened in the past for whatever reason).
I realised much of this when i had a simple helix piercing done. Prior to this piercing my last few had been realtively extreme and difficult piercings and mods. When i had my helix done i could barely feel it at all, let alone feel pain. I was left feeling rather unfulfilled, and had to step back and reflect on what that feeling was about.
"The individual has always had to struggle to keep from being overwhelmed by the tribe. If you try it, you will be lonely often, and sometimes frightened. But no price is too high to pay for the privilege of owning yourself." - Nietzsche
That's something I certainly relate to.  I had a very similar experience when I got my microdermals done.  They were a nearly pain-free experience, despite being three of them, and so easy and quick to feel, that I almost felt as if something was lacking from the experience.  It was an unusual thing to reflect upon given the fact that I was quite happy that they healed quickly and easily and yet I couldn't quite shake the feeling.
October 31, 2011
8:37 am

astral_phoenix
Bel Air, Maryland
Forum Posts: 63
Member Since:
October 3, 2011

Offline

October 31, 2011
11:24 pm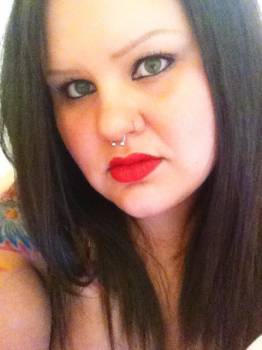 DutchessOfNill
Wenatchee, WA
Forum Posts: 85
Member Since:
August 10, 2011

Offline
For me, pain has always been a comforting feeling.  I can remember being very young and getting into 'tiffs' with my older sister and actually enjoying when she would pull my hair or bop me with her elbow.  For a time I saw a therapist when I was in my early teens and I remember expressing to her that I was worried that my 'need' to feel pain (at that time it was mostly self inflicted) was something I should be worried about because I had come to realize that it was very unlike my peers.  But after a while, she reassured me that I was ok and that I am simply wired differently than others, which was reassuring for myself as well as my parents.
I have since come to embrace pain in different forms as a way of channeling to my 'happy place', so to speak.  I feel differently with different types of pain and I have come to know what my body needs wheather it is from a stressful day, a particularly gruiling month, or even during intimacy.  Body modification, for me, has proven to be a haven for my emotional needs and without it, I most likely would have been forever void of my outlet to release negitive energy.
I hope that made sense.  I have such a hard time explaining it to others
Does anyone find that you react differently to different kinds of pain?  Maybe some pain you might react more posatively than other pain?
For myself, I suffer from chronic pain due to being hypermobile.  My joints, basically, are not as secure in their sockets as they should be and that results in quite a few issues with chronic pain.  The pain I experiene due to my hypermobility gives me a much different reaction than the pain I experience due to various modifications.  Its not a posative sort of pain at all.
I think the differentiation, for me, is one of control.  I choose the pain I undergo when I decide to modify myself or do something rituatistic like suspension and that gives me a certain level of control.  The pain I have to live with, however, is almost entirely out of my control.  Its there whether I want it to be or not and whether I choose it to be or not.  No matter what I want or don't want, there simply isn't anything I can do about it.  I think that's where the posative negatvie dichotomy exists for me.
November 5, 2011
11:09 pm

madeofpaper
Forum Posts: 11
Member Since:
July 7, 2011

Offline
I agree with the differentiation between different kinds of pain. In general, I tend to avoid anything that will cause me pain, like getting burned on a stove for example. If I don't want to feel the pain, I wont like how it feels. But if I am expecting and welcoming the pain, it becomes entirely different. It's calming and it actually feels good. It still "hurts" but it's not a bad hurt, if that makes sense. I don't stuffer from chronic pain like you, but I totally understand and agree with what you say. And I think it does have to do with control, but also with mindset. If you can mentally overcome the pain and welcome it, it will feel much different.
November 8, 2011
2:21 pm
monroe2113
United States
Forum Posts: 4
Member Since:
October 6, 2011

Offline
me and pain have a love-hate relationship, i don't go looking for it if i want a mod i don't worry about the pain, yes somehave been extremly painful but i new it would only last for a bit, so far my most painful piercings was my prince albert and streching my septum but after the pain went away i was able to put my fist in the air and feel the overwhelming rush of victory.
Forum Timezone:
America/New_York
Most Users Ever Online: 116
Currently Online:
31 Guest(s)
Currently Browsing this Page:
1 Guest(s)
Top Posters:
gbalychik: 8195
vampyremage: 462
Sommersett: 296
SasQuatch9585: 271
Jamesryan: 227
Member Stats:
Guest Posters: 60
Members: 2536
Moderators: 2
Admins: 1
Forum Stats:
Groups: 2
Forums: 6
Topics: 8772
Posts: 12853
Newest Members: JESSE, 1heyman, Michaeldeme, REUNatasha, o_dogg, Dr.Squid
Moderators: Oakbear (886), Richard Ivey (6)
Administrators: Chris Carter (195)