Just something that caught my mind | General Discussion | Forum
A
A
A


Topic RSS

Just something that caught my mind

October 24, 2011
1:34 pm

astral_phoenix
Bel Air, Maryland
Forum Posts: 63
Member Since:
October 3, 2011

Offline

So I am watching the MTV Truelife on I Hate My Tattoos, and there is a guy on there from Texas that is getting his tattoos removed because his fiance is saying that is the olnly way he can find a job. She's like engraved it in his head. What the f? She had to have known ink when they were dating. Why change someone if you love them?
"People living deeply have no fear of death." – Anais Nin
There are a few things that come to mind when hearing about this story.  First, at its core I think you'd be right.  Surely she must have known while they were dating?  On the one hand, I hate the idea of one partner trying to change the other partner, especially if they are getting married.  To me, if you love someone you don't try to change important things about them.
When it comes to jobs, however, there is a certain practical level to the discussion.  Depending on where the tattoos are, the unfortunate truth is that tattoos can make it more difficult to get a job.  I think that any of us who are visibly modified are aware that, whether or not its right, it can limit our job opportunities.  I know that as I slowly become more visibly modified, I do so with full knowledge that it could potentially make finding a job more difficult, if I should ever lose the one I have right now.  So I do understand the practicalality of suggesting that hand, neck or face tattoos be removed for the purposes of making getting a job easier. 
Of course, whether or not its either feasible or right depends on a number of different factors.  How important are the tattoos to the individuals sense of identy?  How large are they?  Where are they located?  If they are tattoos on his chest or arms those are a lot easier to hide in job interviews than if they are on his hands or neck.  Not having seen the special, I can't comment on if it is a matter of the girlfiend just trying to be practical or if she truly is trying to change something about him that she simply doesn't like.
October 24, 2011
10:52 pm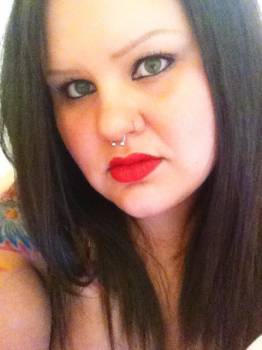 DutchessOfNill
Wenatchee, WA
Forum Posts: 85
Member Since:
August 10, 2011

Offline
I rarely watch television outside of CNN, so I haven't seen the show you're talking about.  But I will say that often times tattoos (or any other form of body modification, for that matter) when placed in a visible area or where it cannot be easily covered, can certainly affect a persons ability to obtain gainful employment.  I don't necessarily agree with it or think it's 'ok', but that's reality.  I work in the Medical field and I can guarantee that if I applied for a job in my field, no matter my qualifications or experience, if I showed up to an interview without my arms covered and with my facial piercings in, I would NOT be hired.  The fact of the matter is that society still has preconceptions of what a 'proffesional' should look like.  I feel that those of us who choose to be heavily modified make the choice to do so knowing the potential risks, and if you don't know then you shouldn't be doing it.
In regards to the T.V. show, I would be suspicious that her motives for having so much concern about her boyfriends employment has to do with her own issues.  Perhaps she sees a 'forever' situation with him in the future, and wants to ensure her security as well?  Either way, it was his choice to get them, and ultimately his to have them removed (even if she did push for it).  I just hope that if they don't live happily ever after, he doesn't regret the loss of his ink.
October 25, 2011
4:58 am

astral_phoenix
Bel Air, Maryland
Forum Posts: 63
Member Since:
October 3, 2011

Offline

He was torn and I normally don't watch tv, let alone junk tv but he seemed very reluctant, while she was all brain washing. I have gotten jobs in the med field with my facial dermal and visable arm ink. I don't know. It was a random post I made just because yes I could see both sides of the coin, but the fiance seemed so demanding. It was also more than likely filmed when it wasn't as accepted as things are now.
I think what really got me was if he was doing it for work he'd be doing just the visable ink, but he was doing his chest to. Don't get me wrong I'm in no way knocking him, my main thing was her behavior. They never said if she worked or not.
This was just really a post about changing for people.
"People living deeply have no fear of death." – Anais Nin
There are definately different motivations there when it comes to visible vs. non-visible ink.  Visibile ink has the argument that it can effect jobs and while that might not be right, it is unfortunatley true.  If its about the non-visible ink as well, however, then that sends a clear message to me that she just has a problem with his ink and the job excuse is just that: and excuse.
I don't understand why someone would even consider marrying another person if they are so unhappy with something about them that is obviously important to their partner.  Why marry him at all if she's just going to try and change him?  Then again, I obviously don't know the full story so maybe there's more to it that I'm missing, but that's the impression that I got anyway.
Forum Timezone:
America/New_York
Most Users Ever Online: 116
Currently Online:
24 Guest(s)
Currently Browsing this Page:
1 Guest(s)
Top Posters:
gbalychik: 8195
vampyremage: 462
Sommersett: 296
SasQuatch9585: 271
Jamesryan: 227
Member Stats:
Guest Posters: 60
Members: 2538
Moderators: 2
Admins: 1
Forum Stats:
Groups: 2
Forums: 6
Topics: 8772
Posts: 12853
Newest Members: SanartU, HanukG, JESSE, 1heyman, Michaeldeme, REUNatasha
Moderators: Oakbear (886), Richard Ivey (6)
Administrators: Chris Carter (195)