Article: tattooing children/adolescents | Page 2 | General Discussion | Forum
A
A
A


Topic RSS

Article: tattooing children/adolescents

January 23, 2013
10:50 pm

link9454
Colorado
Forum Posts: 38
Member Since:
December 20, 2012

Offline
This is a tricky one. I am torn between the feeling that a tattoo is something that any child should be able to get if they want and with their parents permission, but on the flip side, is it ever possible to know if this child might have been forced. Taking care of foster kids for years has given me a bit of an insight as to how kids can act in this sort of situation. You can ask them "did you do this willingly" and they have been coerced into it and into saying they chose it willingly, this is especially easy to do on pre-teens.
Also, and I know it isn't the best source, but in an older episode of Law and Order, a girl died from strep throat that went untreated as a result of her parent's being Christian Scientists. The question here is how far does a parent have in the care of their child before their treatment can be considered abuse or in this case, manslaughter. While not exactly equivalent, the same question applies here. Is it okay for a parent to do something so permanent (granted it can be removed, not not easily) to a child so young who may very well come to regret it later. I think the same thing about circumcision as well.
I got my ears pierced at 13, but mostly because I knew that if it wasn't for me, I could take them out, they'd heal up, and I'd be done. Since I now have 12 piercings, I think it was a good decision. A tattoo is something different however, much harder to remove.
Either way, I think arresting her and all that was simply blown out of proportion.
Forward though the dark uncertain, Or back though the thorns with your bare flesh, It is your choice how to live, between the truth and the lie.
February 4, 2013
12:33 am
Iliandra
New York, New York
Forum Posts: 9
Member Since:
December 13, 2012

Offline
I'm eighteen, and I think it's valuable to start with the idea that not many teenagers are going to find their way to the Church of Body Modification. For one, many are trying to "escape" or rebel against more traditional organizations. I know that personally, I thought it was a great idea to have 18, or 17 as it is in some states, be the age at which tattoos were allowed. While I've had my own tattoo planned for more than seven years, I'm still holding off on getting it. When I planned it, I wasn't aware of all the options available in the field of body art, and I find that since I discovered it for myself two years ago, the idea of changing the design slightly and having it scarified instead appeals to me immensely. I don't think I'm ready for that yet. While I have ten piercings that all mean the world to me, I've always made certain that they were concealable and as unobtrusive as possible because while I no longer live with my parents, I do have a fairly conservative family and I haven't really "come out" to them about my modifications. I've been delaying more "serious" work until I've committed wholly to my complete image. I don't feel like a "finished" person yet, but taking these steps towards that needs to be totally thought out. I have an idea of what I'd like to look like at the end, and the order I'd like to go in, but because this isn't necessarily a mod accepting world, I want to be sure of what I'm getting myself into. I think that I am one of the exceptions in my attitude about this. I wish I wasn't, but I also wish that people never lied, or that there was no hunger in the world. It's a problem that is and can be discussed all the time, but I don't think there can really be a workable solution. I suppose in an ideal world, someone would be able to talk the child/teen/person in general and be certain that they understand the ramifications of their actions, but there isn't the man power or money for that kind of answer.
Thanks for sharing Iliandra. It's nice to hear your perspective, and you seem very well considered. It's nice to hear amongst so many stories of people rushing out to get anything to fit in the crowd.

"The individual has always had to struggle to keep from being overwhelmed by the tribe. If you try it, you will be lonely often, and sometimes frightened. But no price is too high to pay for the privilege of owning yourself." - Nietzsche
December 3, 2014
10:05 pm

deadlydarling
Minnesota
Forum Posts: 4
Member Since:
December 3, 2014

Offline
I'm torn as well. For many of the reasons you already discussed. For starters:
1. It is her child. From the sounds of it she did not do it against the child's will. She did not force her to do it. The part that is a little troubling is only being 11. If the child was a teenager (13) or older it wouldn't be so bad. Then I think if my ten year old came up to me and wanted a lip piercing I'd be all for it. I have all the professional and necessary equipment, and training to do so. I would pierce my child's lip in a heart beat if that's what they wanted. But that's just it. It's a piercing, it can be removed. 
2. The tattoo was small. It was a simple outline. Children make mistakes. There is the option to get it removed. And with a simple outline it wouldn't take long. Since she's only 11 there is a chance that it may fade out quite a bit by the time she is 20. I've had to have a majority of my tattoo's touched up. In the long run I wouldn't worry too much about a little heart. If she did a full sleeve of barbies and ponies on her daughter's arm. Again, a different story a different ball park.
3. As stated above. It is her child. It's not child abuse. The child consented to the tattoo. I don't see the issue.
I'm very back and forth right now. So I will settle with. If she was a bit older, it's fine. 11 is just too young.
The Deadliest Sin is to Have Never Sinned at all.
I think the issue i whether an 11 year old can consent. There's plenty of things which legally they cannot be considered to, whatever they say, including tattooing.
I'd also caution against the idea that tattoos are reversible. They can be removed with an uncomfortable procedure, but will never be exactly a before, and may leave scars. Can an 11 year appreciate that and how they may feel about a tattoo when they are 20? I'm not answering that question, but the law says no.
"The individual has always had to struggle to keep from being overwhelmed by the tribe. If you try it, you will be lonely often, and sometimes frightened. But no price is too high to pay for the privilege of owning yourself." - Nietzsche
December 7, 2014
8:52 am

Tiffany
Phoenix, AZ
Forum Posts: 33
Member Since:
January 7, 2011

Offline
Well it's kinda funny, and not funny haha, but in a so many ways in the eyes of the law, children have very few rights. This includes teenagers, but as a person gets older they may try to argue in court on their behalf to obtain certain rights to property, consent and privacy, but really, children have very few rights, especially to those things mentioned above. Their parents are their legal guardians, or if they have no parents, another family member may take custody or the state will appoint a guardian, but any person who has a guardian, which is ALL children unless they've been legally emancipated, (and emancipation it truly is), or unless they are an adult recognized by the state as unfit to make medical, financial or legal decisions to the state's liking, and/or are unable to make sound life decisions of any kind, such as being unable to recognize risks in public, household dangers (stove is hot, etc), and so forth. An adult who has a guardian is unable to sign any legal documents, their guardian must, and they're unable to sign any medical paperwork or make medical decisions without their guardian or a caregiver present. Soo…they are also unable to get tattoos without their guardian's decision.
I've worked with many adults with state appointed guardians, and I've never met one guardian who has allowed their charges to get tattoos or piercings, because they figure that if the person is unable to understand basic finances, or unable to manage their own personal hygiene (not because they're physically incapable, but because it's either too complicated or not a priority), then the person likely is not of sound mind at that time in their lives to grasp the concept of body mods and consent with full knowledge of the actions they're taking.
I'm not saying I 100% agree with the guardians' stance, I've known too many people who needed a guardian at one time but when they no longer needed one it became a helluva lot more difficult to convince the state that one was no longer needed than convincing it in the past that one was. However, it kind of puts things into perspective. Parents are the legal guardians of children, and in a perfect world they do their jobs properly. We've had teenagers weigh in on this discussion who were fairly mature and understood fully the consequences of their actions. I'm certain they could also run a household and be responsible in many other regards if necessary, as well. And yes, at least one of them bristled at my comment regarding the changes that occur in the adolescent brain, (sorry younglings, but the brain is not fully formed until early 20's, even if you're a responsible teen. Hehe) But if we're going to talk about whether a child can consent to permanent body art, we have to take all of these factors into consideration. At what point is a person mature enough, and has the wherewithal to consent to such a thing? It's definitely a conundrum.
I got my first tat within weeks of my 18th bday. I had been planning it for years. My parents never would've consented. I grew up in a pretty rough neighborhood with a lot of gang activity and many of my friends had gang related, and sometimes racially hateful, tats in very conspicuous places who, today, very much regret having gotten them as kids and have had to go to great lengths to try to tattoo over them (removal is expensive, and often doesn't always fully remove the tattoo). So, there is something to be said for making a child or young adult wait. At the same time though, they shouldn't be shamed or guilted for wanting them, because teenagers especially are damn good at rebelling, and it's human nature in general. Coercion elicits resistance. Heh
I do like the idea of a ritual/rite of passage. I always kind of considered my first tat as my first decision as an adult. It certainly wasn't the first adult decision I made, I had a lot of responsibilities as a teenager, at home, school and work. But for me, going and getting that tattoo was me going something that I couldn't do until I was considered to be an adult. It was something I wanted for a very long time and was finally able to obtain it. At the time I was upset that I had to wait so long, but now I don't care. I don't need instant gratification anymore to stay happy. Delayed gratification is a valuable lesson for children to learn early on. Not that you can explain to an 11 year old that this is why she probably shouldn't get a tattoo yet. Hehe
When I'm good, I'm good. When I'm bad, I'm even better. :D
January 20, 2017
1:35 pm

stream26
Forum Posts: 10
Member Since:
June 2, 2016

Offline
My youngest wants her hair dip dyed green like http://newaylook.com/best-gree…..ir-styles/ , but it's not allowed at her school, (she's 11) & I don't want my kids to dye their hair (I am such a wuss, but both my girls have hair I would die for) anyway so we got hair chalks. I thought they would be total crap, but they're not! You can't tell the difference between dip dye and hair chalk, except hair chalk you can wash out and wear a new colour everyday. My youngest loves them and the school can't complain as they aren't permanent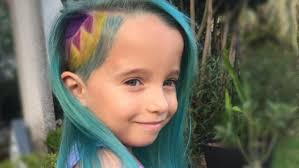 Forum Timezone:
America/New_York
Most Users Ever Online: 116
Currently Online:
19 Guest(s)
Currently Browsing this Page:
1 Guest(s)
Top Posters:
gbalychik: 8195
vampyremage: 462
Sommersett: 296
SasQuatch9585: 271
Jamesryan: 227
Member Stats:
Guest Posters: 60
Members: 2527
Moderators: 2
Admins: 1
Forum Stats:
Groups: 2
Forums: 6
Topics: 8772
Posts: 12853
Newest Members: pogo, Odchudzanieokxxx, KaiAria, akshayv, XMikoDikoX, YawarWaqaq
Moderators: Oakbear (886), Richard Ivey (6)
Administrators: Chris Carter (195)