We do not to be the modified to find the spiritualism. | Experiences | Forum
A
A
A


Topic RSS

We do not to be the modified to find the spiritualism.

April 7, 2012
3:12 pm
jimmyenglish
Minnesota, u.s.a.
Forum Posts: 48
Member Since:
April 3, 2012

Offline

So yesterday night was a realitivly slow night a pt that shop. Close to to closing time a young lady hobbled in, leg in a brace, and a little twitchy. So had asked for a simple tragus piercing. I was happy to oblige. She informed me that she had a device which caused to slightly twitch, but was absolutely essential in order to monitor the extreme pain she was often in due to her leg injury. She very nicely asked if that would be a problem. I replied not at all, I've had all kinds of twitches in my years of experience, and have even been inadvertently punched and kicked a few times. I informed that I could most certainly perform the piercing with little to no trouble. After we talked a bit about jewlery and placement and such, we went to the room to perform the procedure. Making small talk with her I learned that she was actually a little apprehensive about receiving the piercing due to some bad experiences in the past with piercirings. I tried as best I could to ease, and comfort her, and performed the piercing exactly the same as I do every time. I thoroughly explained the procedure, and had her do breathing exercises to help ground her, and minimize pain. The piercing went perfect. After words I went over the after care with her and asked if she had any questions. After answering her questions, and addressing concerns she commented that this was the best experience she had ever had, and that she was once again completely turned onto piercing. This alone was spiritual and uplifting. I was exstatic that had reknewd her joy. It made me feel more in touch with myself and capabilities. Truely one of the best compliments a piercer can ever receive is what she had said. Anyway today she came back to the shop and asked for a helix piercing. Once again I was happy to oblige. This time we got to chat a little more. She informed me of the multiple operations she's had on her leg (10 In all since 2007) including some experimental procedures now dreamed unsafe and no longer used. She also told me that there was a time when the possibility of amputation was very likely. She had informed me that she slipped into a very depression during this time, until she finally realized that with a leg or not she could carry on. She explained to me that last night helped her to feel even better about therself, because she had a part of her body that she could control and command, and did not restrict her. Listening to her story and her plight I began to admire her strength and courage. These things we take for granted, a leg, a hand, not being in a constant state of pain, she endures and pushes through every day. The entire time she never whimpered, or said ow. She had smile throughout. Then to find that she drew strength and comfort from the modification experience even through all this was very spiritual for me. It humbled me and made reflect that I am great full for these things I have. The things I was given. A moment with her was 1000 steps up the mountain for me. My chest is warmed as I right this, my heart is tingling. And now I can remember this young lady, and remind myself that I have it easy,, if she can strive and survive, then so can I.
Jimmy "English" Lesniewski
April 7, 2012
9:49 pm

Jamesryan
Utica, USA
Forum Posts: 227
Member Since:
March 2, 2011

Offline
That's wonderful. I have a couple things to share that relate.
This first points to where you said you've been kicked. In the first shop I was in I had this rule because I prefer it this way: only one friend in to view the piercing at a time. This is for support of the individual. I actually prefer to do it without anyone in the room, but if they'd like I allow one bystander. Well, on this particular occasion this girl had three friends. And she asked if they could all come into the room. I said only one was and at that moment she pulled a $10 bill out of her wallet and stuck it in my tip jar. I said, "come on back, ladies". They were happy.
Now, I was piercing her monroe. They were all giggly and all that stuff that crazy just-got-into-college 18 year old girls are like. I walked the piercee through the procedure verbally and then began to perform it. Just after the needle penetrated the opposite side the piercee reached up and grabbed my arm with a monkey grip. This caused the needle to be pushed out the other side, flip up into the air and nearly hit her in the eye.
That wasn't fun.
My second story is the following. When I was ten years old I began getting extreme migraines and had a constant headache, and by constant I mean it NEVER shuts off. Turns out this is due to excessive bloodflow to my brain. My head is in a constant state of pain, to the point that I daily have to go into a bathroom wherever I am, sit down and come close to tears because of it. Medication helped the pain but it dulled my senses and it sent me into a downward spiral of depression. I walked away from it and began meditating daily. This has helped me manage my pain. Body modification does something similar for me. It lets me control my pain even moreso because I'm in charge of what goes on my body and where.
The story of the girl simply reminded me of my own problem and thought I would share.
James R. Somers ModernPrimitivism.com
April 7, 2012
11:12 pm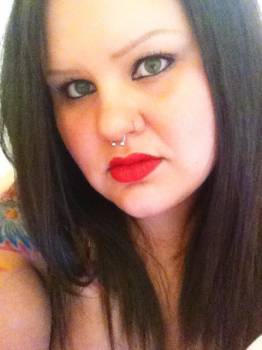 DutchessOfNill
Wenatchee, WA
Forum Posts: 85
Member Since:
August 10, 2011

Offline
I can absolutely relate to the idea of body modification helping with pain.  I live with chronic and constant pain myself, due to hypermobility.  Thankfully my daily pain is usually on the lower end of the spectrum, but its always there and fluctuates based on my activities.  Even when its relatively controlled, it can be be physically draining to constantly have to deal with and because of my condition, I have to carefully moderate how much I do during the day because otherwise the pain spikes from more or less tolerable levels to, at times, close to tears levels.  I very rarely take painkillers to deal with it, except when it gets to be at its very worse, both because I dislike the idea of becoming reliant upon them and because I prefer to have the knowledge that I have the mental strength to deal with such things on my own.
How this pertains to body modification, for me, is a matter of control.  The pain I live with every day isn't something I choose, its simply something I have to cope with.  The pain that comes from body modification is entirely different.  It is a conscious choice, both something to overcome for a positive result and sometimes something positive in and of itself.  Its a little difficult for me to actually put into words, but choice makes all the difference in the world to me.
April 9, 2012
4:57 pm

strommer
Portland,OR
Forum Posts: 212
Member Since:
October 3, 2011

Offline

i no exactly what your saying vampyremage i to have lived with extreme pain i fell out of a tree when i was real young and ended up paralyzed for awhile now i have constant back pain to the point where sometimes i cant move and i also try to stay away from pain killers unless it gets real bad but the pain from mods is totally different  its something im in control of and i also believe that as a result of my injury im better at dealing with the pain from mods cause theres no way there gonna hurt me more then the pain ive already gone through 
April 10, 2012
4:12 am

Jamesryan
Utica, USA
Forum Posts: 227
Member Since:
March 2, 2011

Offline
As you, Strommer, I stay away from medications. I'm not a fan of Western Medicine regardless of my girlfriend being an R.N. and prefer herbal remedies and alternative treatments. Nonetheless, I rarely actually go through with the alternative treatments and thus go without anything. 
James R. Somers ModernPrimitivism.com
April 10, 2012
11:33 am

indi
Eden, NC.
Forum Posts: 80
Member Since:
January 24, 2012

Offline

Jamesryan said
As you, Strommer, I stay away from medications. I'm not a fan of Western Medicine regardless of my girlfriend being an R.N. and prefer herbal remedies and alternative treatments. Nonetheless, I rarely actually go through with the alternative treatments and thus go without anything. 
This is pretty much where I end up as well, generally speaking.  I just don't like to put anything in my body when I have the opportunity to deal with it without chemical or homeopathic assistance.  There will always be those times when the pain gets so bad that I have to do something to help it out, but I try to keep those times as few and far between as possible.
April 11, 2012
6:13 am

Jamesryan
Utica, USA
Forum Posts: 227
Member Since:
March 2, 2011

Offline
April 23, 2012
4:12 pm

Starshine
Miami, FL
Forum Posts: 12
Member Since:
August 26, 2011

Offline

This is a beautiful story, thank you for sharing
I had something similar happen with a client of mine. Long story short she came in and wanted her VCH done, we talked about it, my intuition told me to go a little deeper… She was doing it for her boyfriend at the time, she had extremely low self-esteem. After the procedure she cried because she never thought she would be able to do something like that, she was able to see the strength within herself…Well the relationship ended and the piercing was removed. She came back a few months later absolutely glowing and told me she wanted it again, but this time for herself not for anyone else. After that she's repeatedly come back for a tongue piercing (which we decided aided her in areas of communication as it is tied to the throat chakra), a cartilage and navel…all for spiritual reasons. 
I think it's wonderful when the people are in the right place and the right time and despite the trials and tribulations we face there is that drive to get back up and progress. Growing as better people for ourselves and our Community.
<3 Thank you again for sharing this. Blessings ^.^
Forum Timezone:
America/New_York
Most Users Ever Online: 116
Currently Online:
27 Guest(s)
Currently Browsing this Page:
1 Guest(s)
Top Posters:
gbalychik: 8195
vampyremage: 462
Sommersett: 296
SasQuatch9585: 271
Jamesryan: 227
Member Stats:
Guest Posters: 60
Members: 2536
Moderators: 2
Admins: 1
Forum Stats:
Groups: 2
Forums: 6
Topics: 8772
Posts: 12853
Newest Members: JESSE, 1heyman, Michaeldeme, REUNatasha, o_dogg, Dr.Squid
Moderators: Oakbear (886), Richard Ivey (6)
Administrators: Chris Carter (195)